Is it a good time to purchase property in COVID?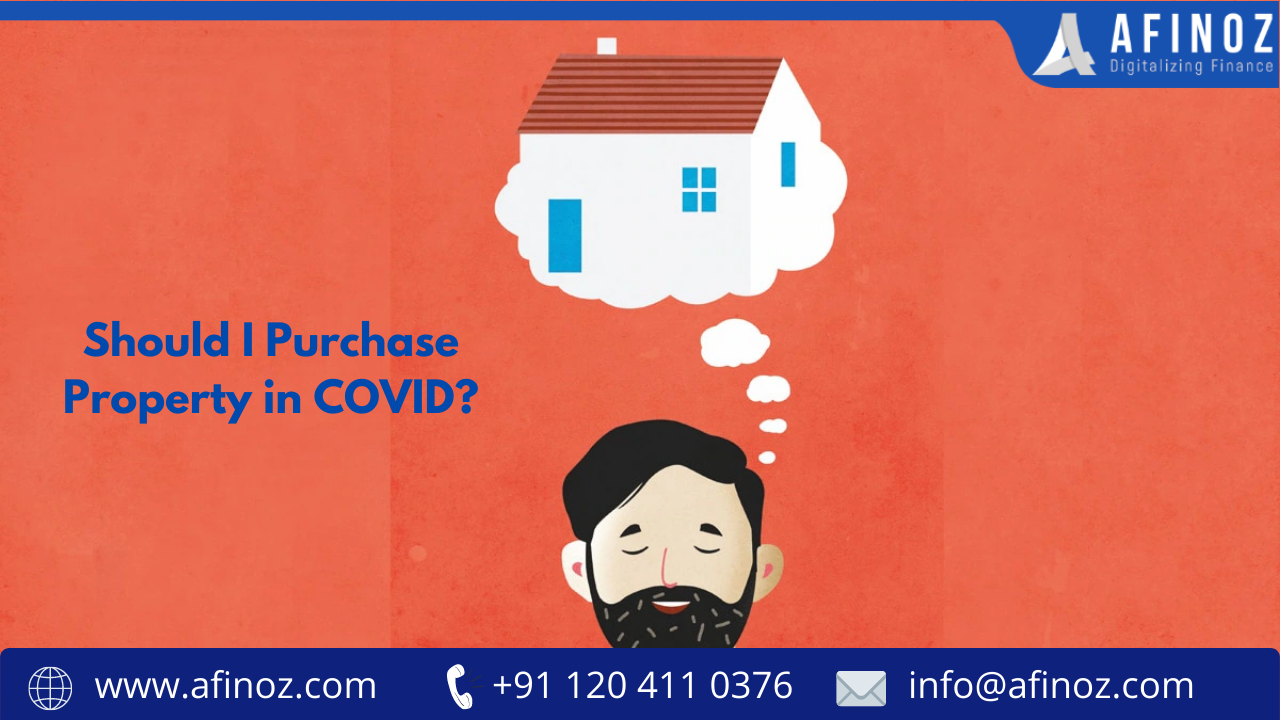 Coronavirus has wreaked havoc on practically every business, including the real estate market. Is this the correct moment to buy a house or make a property investment in light of this? People desire their own homes for a variety of reasons, one of which is the pride of ownership. However, not every period is ideal for purchasing a home through a home loan.
Furthermore, with reduced loan rates and a buyer's market, residential real estate is at its finest right now. No wonder, according to recent studies performed by property consultants, housing inquiries in the top cities have rebounded to 50% of pre-COVID-19 levels, and the majority of home buyers are eager to return to the market in the next 3 to 6 months.
Reasons for purchasing property in COVID
Ready-to-move-in homes are now topping consumer preference, according to the updated news, with residences priced between Rs 40 lakh and Rs 1.25 crore in the highest demand. In addition, end-users negotiated over 80% of housing arrangements throughout the pandemic.
We'll look at some key points, why now might be a good time to buy a house:
Factors on the supply side that have a favorable impact on the market
In comparison to previous events when the user faced a crisis of this event, such as the dot-com catastrophe, the oil crisis, or the global financial crisis (GFC) of 2008, the residential real estate market's economic health and financial situation is currently substantially better.
Interest rates on home loans are at an all-time low
The Reserve Bank of India (RBI) has decreased the repo rate on several occasions in recent years, resulting in house loan interest rates falling below 7%. As a result, hopeful homebuyers should not try to take advantage of these historically low rates if they have the requisite margin money. In reality, Rs 50 lakh loan for 20 years at 8.5 percent p.a. would have meant an EMI of Rs 43,391 a year ago, when home loans were in the region of 8-9 percent. However, you could now secure the same loan at 7%, which would reduce your EMIs by Rs 4626 to Rs 38,765, saving you nearly Rs 11 lakh in total interest payments.
Cities will recover faster with better government help
Unlike in the past, the government has been quick to announce fiscal and other stimulus initiatives. People are aware that the residential sector's reliance on global capital is restricted. The demand for residential real estate is primarily local. The IT/ITES sector has remained relatively unaffected, as evidenced by the present revival. In comparison to other cities, Bengaluru, Pune, Hyderabad, and Chennai are doing better. As previously stated, we are in the midst of an extremely benevolent interest rate regime, with the repo rate at its lowest since 2008. The other benchmark rates are the same way.
Real estate is a reliable investment
The stock market's volatility and unpredictability have undermined not only wealth but also investor trust. This has also added real estate's emergence as a reliable asset class. Because luxury homebuyers often have a bigger stock market investment, the luxury market may be struck first. If factors like employment security and a gradual economic recovery are considered to stay favorable, rental yields are expected to improve with price reduction. It will have a positive impact on increasing buyer confidence.
Current home loan interest rates
In the given table there are some top banks having home loan interest rates and EMI amounts for availing the loan:
| | | |
| --- | --- | --- |
| Banks | Lowest Interest Rate (p.a.) | Lowest EMI/Lakh |
| Kotak Mahindra Bank | 6.50% | Rs. 754 |
| Punjab & Sind Bank | 6.65% | Rs. 754 |
| LIC Housing Finance | 6.66% | Rs. 755 |
| State Bank of India | 6.70% | Rs. 757 |
| Tata Capital Housing Finance | 6.70% | Rs. 757 |
| | 6.75% | Rs. 760 |
| | 6.75% | Rs. 760 |
| Bajaj Finserv | 6.75% | Rs. 760 |
| | 6.75% | Rs. 760 |
| | 6.80% | Rs. 763 |
| Union Bank of India | 6.80% | Rs. 763 |
| Central Bank of India | 6.85% | Rs. 766 |
| IDBI Bank | 6.85% | Rs. 766 |
| Bank of India | 6.85% | Rs. 766 |
| | 6.90% | Rs. 769 |
| Tata Capital Housing Finance | 6.90% | Rs. 769 |
| | 6.90% | Rs. 769 |
| Canara Bank | 6.90% | Rs. 769 |
| | 6.90% | Rs. 769 |
Conclusion
As a result of the foregoing factors, it appears to be an excellent moment to purchase real estate. Unless one has a very long investment horizon, it may not be the best moment to buy property for investment purposes if the goal is capital appreciation. Thus, one can check out the list of banks offering a home loan. If you need to get more information then, visit Afinoz.com.
Get a Personal loan
Get a Home Loan
purchase property in COVID