5 Reasons to Choose an Overdraft Facility Over a Personal Loan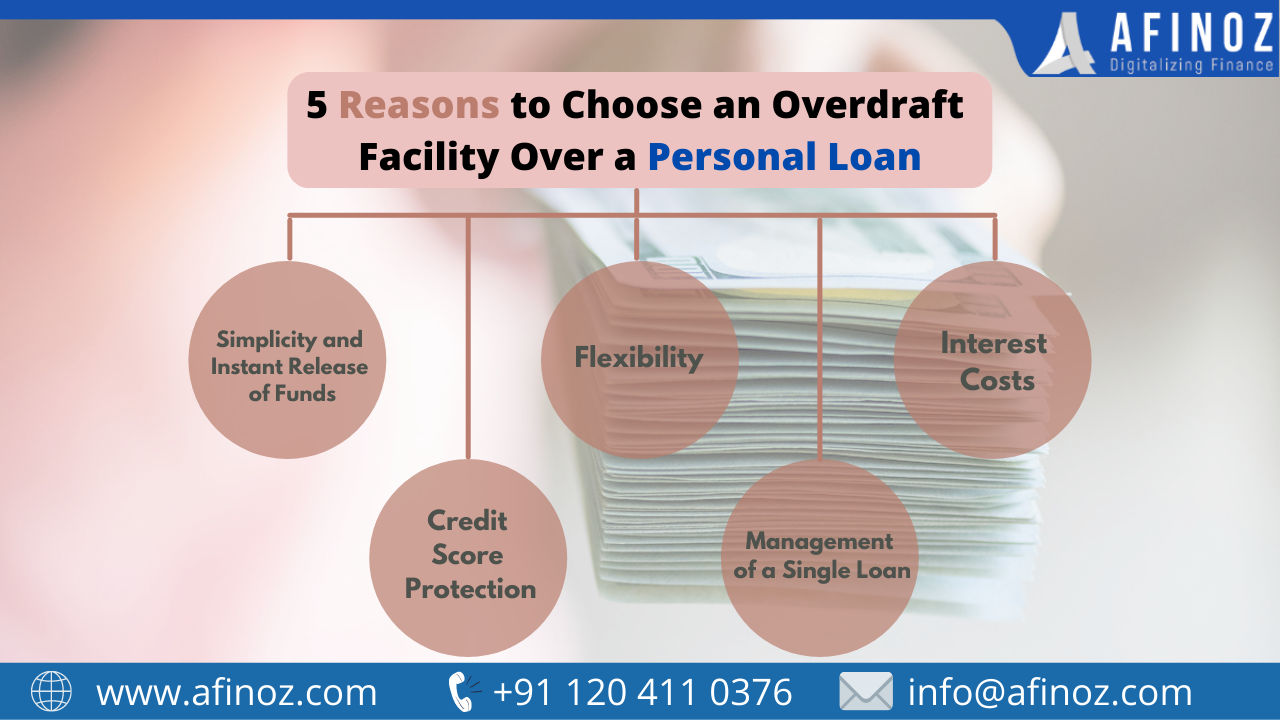 When you need instant cash, both viz. a Personal Loan and an Overdraft Facility stand out to be helpful but you opt for the Overdraft Facility, you can borrow funds by means of your bank's current account.
Below we've outlined the top 5 reasons to choose an overdraft facility over a personal loan. Read on to know!
Simplicity and Instant Release of Funds
As compared to an Overdraft Facility, a Personal Loan in India requires you to deal with a lot of paperwork.
In a Personal Loan, you must possess a decent CIBIL score to get your loan approved.
In a personal loan, every time you need cash you will be required to go through the same application process. Moreover, you may get the funds only after the loan gets sanctioned.
But if avail of an Overdraft Facility, you can take out funds within a matter of hours.
You will not be required to set up an overdraft account every time you require cash but it is the opposite in the case of Personal Loans.
Flexibility
Personal Loans come with flexibility, yet, not as much as Overdraft Facility.
You will be required to pay a fixed monthly installment throughout the personal loan repayment term and the payments also have to be made timely. Maybe for you, this could be a trouble, if you witness different income every month.
Therefore, a Personal Overdraft Facility allows you to take as much money as you require within the limits set for you.
In an overdraft facility, you can strategize the repayment in accordance with your convenience as you can pay within days, weeks, or months - whatever fits you.
Read More:- Overdraft Facility for the Salaried
Interest Costs
Once you have availed of a Personal Loan, the interest begins to form right away, even if you are not utilizing the funds at all.
If you consider prepaying the loan amount, you'll also have to give prepayment fees alongside the principal and interest amount due till that time.
While in the Personal Overdraft Facility, you will not have to make an interest payment on the funds until you've utilized it from the limit.
With an Overdraft Facility, prepayment turns out to be seamless as there are no charges levied for the same.
Credit Score Protection
If you frequently avail of Personal Loans and pay off them, your credit score will fluctuate very often.
Cases such as cheque bounce can lead to a fall on your credit score, and if these occur frequently, you can also have a tough time getting loans or credit cards potentially.
If you go with a Personal Overdraft Facility, you can get rid of these hassles.
Under the Personal Overdraft Facility, you will have only one loan which you are constantly servicing.
This might extend a positive uplift in your credit score.
Management of a Single Loan
If you have multiple personal loans, it means that you will need to manage the hassle of multiple lenders, and multiple repayments.
This is not only taxing but also leads to a high odd of default and cheque bounces.
A Personal Overdraft Facility enables you to acquire just one loan, a single payment, and an ample amount of less effort and complexity.
Conclusion
To sum up, Personal Overdraft Facility stands out to be more viable when compared to Personal Loans. Even though, if you're going for only a single Personal Loan offer with a larger sum and repay across a longer repayment term, you should consider a Personal Loan. To obtain the best Personal Loan deal, you can undoubtedly turn around Afinoz instant loan app.
Read More:- Which Bank is Giving Best Overdraft Facility in the COVID 19 Scenario?
personal loan
overdraft facility
Overdraft facility for Self-Employed
Overdraft for Salaried
COVID 19 Scenario
COVID 19 Outbreak
Overdraft facility
COVID-19 pandemic
overdraft facility
overdraft facility for salaried
overdraft account
Top Cities for personal loan